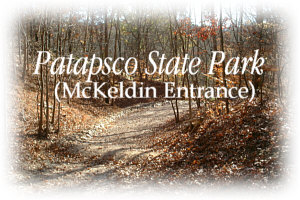 Patapsco Valley State Park extends along nearly 35 miles of the Patapsco River, from Elkridge in the east to Woodbine in the west. This river valley park encompasses more than 14,500 acres and several distinct recreation areas, including the McKeldin Area located in the southeastern corner of Carroll County. Here, the Patapsco River's north and south branches unite, flowing southward to Baltimore's Inner Harbor. McKeldin may be best known for its varied, steep and wooded terrain, reminiscent of the mountains of Western Maryland.

Families and outdoor adventure enthusiasts enjoy recreational opportunities throughout this 1,403-acre area, including hiking, mountain biking and horseback riding on eight miles of trails, as well as picnicking and fishing.

McKeldin Area trails are popular for hiking, mountain biking, horseback riding, wildlife viewing, birding and general nature appreciation. Snowfall in the winter provides excellent conditions for cross-country skiing, snowshoeing and other winter sports.

McKeldin's contrasting upland forests and riverine wetlands support a wide variety of plants and animals. The forest is predominately oak, but includes a host of other deciduous tree species, such as tulip poplar, dogwood, maple sassafras, redbud and many large sycamores. Wildflowers bloom year-round and decorate the forest floor and fields. Be on the lookout for lady's slipper, Jack-in-the-pulpit, May-apple, bloodroot, mountain laurel, goldenrod, black-eyed Susan and Indian pipe. McKeldin also has abundant habitat for small mammals and birds, including migratory species. Sit quietly under a tree and watch rabbits, gray squirrels, woodchucks, red fox and white-tailed deer appear from hiding. Colorful bluebirds, scarlet tanagers and Baltimore orioles can be enjoyed during their migration through Maryland in the spring and fall. Listen for the beautiful songs of warblers or the whistle of a red-tailed hawk soaring overhead. Along the banks of the Patapsco River, bird watchers will spot Canada geese, green herons, kingfishers, mallards and wood ducks year-round. Although rarely seen, screech owls, barred owls, great-horned owls, kestrels and wild turkeys also inhabit the forest.

Pictures when clicked will open in a new window.
| | | | |
| --- | --- | --- | --- |
| A crisp fall day for our little hike, and the crunch of the leaves under our feet! | Before we began, the children give a climb on the monkey bars. | The trails are a mountain biker's dream! Here is a mountain biker here, wishing he was on his bike, not walking! (hehe) | The children found a rock, a BIG rock! They wanted to take it home. Was too big! |
| Shelby and Laura enjoying the sun and golden fall day. | Laura and Shelby break out in a dead run! | What's a hike without finding a special walking stick? | Shelby and Laura find a tree to climb! |
| Laura is always discovering things she wants to bring home for her "collection." | Scaling down a path to the rapids. | Laura (also with a walking stick) at the rapids. | Miquel walks out on the rocks. |
| Heads bent together, playing with leaves in the water. | Shelby and Laura...one last look before we go. | | |