Past Newsletters
2005


2004
.

Last updated May 1, 2005, 5:00 PM EDT


May Edition
---
Welcome to My Newsletter!




Whats new! Always something new.

May...a good month. The weather is usually predictably lovely, it holds Mother's Day, and also, My Birthday! (I should insert one of those online wish lists here) :)
Once again I have to wonder how much the newsletter is needed now that I write in my blog with regularity.
Want to know when I update my blog? Go to my blog HERE and enter your email at the top right!
Skins Gallery now has over 7000 members! This is a growing site for me, each day new members or new content is added!
---
"Ring Tones"

Want some nice ring tones for your cell phone? You can choose from the theme from the Exorcist, Hotel California, Phantom of the Opera, Movie themes, TV Themes, Holiday songs, and so much more! HERE
---
Xerraire Recommends Corner
I sat down with my daughter who was watching the TV one day.... and happened to look up and take notice of the humor that just reeled one scene after the other....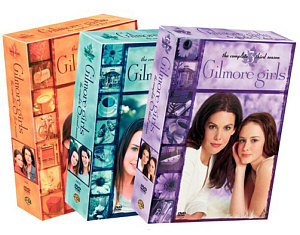 The Gilmore Girls!

Set in a storybook Connecticut town populated with an eclectic mix of everyday folks and lovable lunatics, Gilmore Girls is a humorous multigenerational series about friendship, family and the ties that bind. Now beginning its fifth season, Gilmore Girls has been honored with an AFI Award and two Viewers for Quality Television Awards, and was named New Program of the Year by the Television Critics Association.

Thirtysomething Lorelai Gilmore (Lauren Graham) has made her share of mistakes in life, but she has been doing her best to see that her college-bound daughter - and best friend in the world - Rory (Alexis Bledel, Tuck Everlasting), doesn't follow in her footsteps. That may be easier said than done, considering that the two share the same interests, the same intellect, the same coffee addiction and the same eyes. Rory is more serious than Lorelai, but there are tendencies, especially in the love department, that clearly indicate she is her mother's daughter.
From the beginning, this unique mother-daughter team has been growing up together. Lorelai was just Rory's age when she became pregnant and made the tough decision to raise her baby alone. This defiant move -- along with Lorelai's fiercely independent nature -- caused a rift between her and her extremely proper, patrician, old-money parents, Emily (Kelly Bishop, Dirty Dancing) and Richard (Edward Herrmann, The Cat's Meow). However, Lorelai was forced to reconcile with them when she found herself in desperate need of money for Rory's tuition. At the end of season four, Lorelai and Rory were shocked when the stress caused by Richard's new business venture, not to mention the revelation that he was carrying on a secret friendship with an old flame, caused Emily to reevaluate the marriage. The elder Gilmores are now separated, and Richard has moved out of the house - although only as far as the pool house.
As season five unfolds, both Lorelai and Rory are once again facing major life changes. Lorelai's dream of opening an inn with her best friend and fabulous chef Sookie St. James (Melissa McCarthy) has finally come true. As happy as she is with the new venture, Lorelai will face one challenge after another as she learns that being your own boss is more stressful than it sounds. The biggest surprise in Lorelai's life, however, is that her longstanding friendship with Luke Danes (Scott Patterson, Little Big League) has suddenly turned into a romance that will continue to blossom in the months ahead. Though Lorelai and Luke try to keep their relationship a secret, the whole town soon knows they are a couple, and the reappearance of Rory's father, Christopher (David Sutcliffe, I'm with Her) in Stars Hollow only adds to the drama.
Rory had her own romantic complications last season when she slept with her former boyfriend Dean (Jared Padalecki, Cheaper by the Dozen, House of Wax), even though he is a married man. After spending the summer in Europe with her grandmother, Emily, Rory returns to Stars Hollow, ready to try to figure out what kind of relationship she and Dean really have. As her second year at Yale begins, Rory will become even more involved in the college newspaper, and she will meet an intriguing young man named Logan (Matt Czuchry, Eight-Legged Freaks), who comes from the same old-money world as her grandparents.
In addition to continued bonding time with Lorelai, Rory stays in contact with her best friend, Lane (Keiko Agena, Felicity), who has moved out of her mother's house and resolutely pursues her musical streak as drummer in a rock band. Another constant in Rory's life is the presence of intense former classmate Paris Geller (Liza Weil, Stir of Echoes), who will once again be her roommate at Yale. Continuing to add to the unmistakable style of Stars Hollow is a colorful roster of town characters, including Miss Patty (Liz Torres, The John Larroquette Show), the local dance teacher and social commentator, haughty former Independence Inn concierge Michel Gerard (Yanic Truesdale) and Kirk (Sean Gunn, Pearl Harbor), the town's jack-of-all-trades and master of none. Gilmore Girls was the first series to make it to air supported by the Family Friendly Forum's script development fund. An initiative between some of the nation's top advertisers and The WB, the program is intended to offer a greater array of compelling family programming on network television. The strong and loving mother-daughter relationship portrayed in Gilmore Girls reflects the growing reality of this new type of American family.
I am now hooked on this show, and tune it to its reruns every day at 5! :)



© 1999 - 2005 xerraire.com||mxskinz.com
xerraire@xerraire.com






Finds on the Net

Cosmic Blobs
Poke, pull, squeeze and mold globs of virtual clay into all kinds of shapes!


Sensitive Light
A portfolio of photographs by Graham Jeffery. Some very beautiful photos here. I expecially liked in "recent" photos, the waterfall.


Soul Quizzes
What is your spiritual type? Are you a gossip? Are you a narcissist? How optimistic are you?