Past Newsletters

2003
.

Last updated January 9, 2004,7:00 PM EDT


January Edition
---
Welcome to My Newsletter!
---


Whats new! Sweet wishes for a Happy 2004 to everyone. How were your holidays? I had a rather peaceful Christmas and got some goodies I really love. A sweater, some bath oils with Almond and Honey that made the best bath ever, a precious shirt with frogs on it from down under, a cart on wheels for my printer, and a miniature lighthouse to start a collection with. For my camera, loved getting another memory card for it and I also added to my accesories a tripod! The children lived it up over the vacation time, having visits with their brother back from college and over night guests that stayed a few overnights!

I enjoyed my time off school, mostly doing experiments with photography and taking the children to bargain shopping outings.

---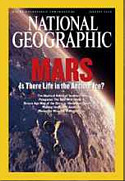 Most everyone knows how much I love the Terragen 3-D scenery generator by now. Terragen is a program in developemental stages, but recently was boosted by having some images on the January Issue of National Geographic.

The cover features an image of Mars by Kees Veenenbos. There is also a double page image by him in the article.
---
Xerraire Recommends Corner

Tournament of Roses Parade (not just for girls)





Each New Years Day morning I would climb on my dad's lap as a little girl, and watch what I thought was the grandest parade ever to watch. Over the years we kept that routine, the morning belonging to him and I while mom prepared for a New Year's Feast with guests coming and the day would be filled with holiday foods, canasta & pictionary games, with a mess of football games going in the background.



This is not your average parade; the floats have to be covered completely in organic materials, follow a theme for that year, (this past theme was "Music, Music, Music" and seen in 28 countries around the world. Float construction begins shortly after the previous year's Parade is over. The process starts with a specially built chassis, upon which is built a framework of steel and chicken wire.


In a process called "cocooning", the frame is sprayed with a polyvinyl material, which is then painted in the colors of the flowers to be applied later. As I said before, every inch of the float must be covered with flowers or other natural materials, such as leaves, seeds, or bark.



If you have never watched the Tournament of Roses Parade that takes place every New Years Day in Pasadena, California, I pass on my sincere wish that everyone would! Along with a wish for a Happy New Year to everyone!



Links:

Tournament of Roses Official Site
Charisma Floats
Festival Artists
Studio Concepts



© 1999 - 2004 xerraire.com||mxskinz.com
xerraire@xerraire.com






Finds on the Net!
Quoteland.com- Need a quote for a project or an assignment? Have part of a quote stuck in your head and you are looking for the accurate full quote? Visit Quoteland where you can search by topic, author or even just using a keyword.
Dictionary.com - Look up a work quick with Dictionary.com, or try their thesarus, there is even a translator!
National Geographic - Picture of the Day