.

Last updated December 14, 2003,12:00 PM EDT


December Edition
---
Welcome to My Newsletter!
---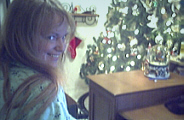 Whats new! It's that wonderful time of year again. Maryland was turned winter white early with near 2 feet of snow in our area. A White Christmas would not be surprising. Laura has enjoyed the snow very much! Miquel is reaquainting his muscles with the shoveling they did last year. :)

This has been an interesting month, helping my neighbor, Miss Catherine write a book concerning Alzheimer's Disease. I am learning a lot, and so is Miss Catherine, about her computer. She has had a lot of technical support issues; I would love to know why when I went to help her with that, why we had our calls for support sent to India. We had bad connections, and as international a gal I am, even I had trouble understanding them. (Must be true what I read in the news, all our IT jobs are being transfered to overseas). Something doens't seem right there,

I suppose now, mid December, I am preparing as much as everyone else for the holidays. Shopping in bitter cold, with absolutely no place to park, with swollen glands and on medication makes me wonder to myself, why don't I get modern and start shopping online more?

Next will come baking cookies like I always do...white chocolate macadamias, sugar cookies decorated with icings, the traditional chocolate chip cookies, and perhaps peanut butter!

As I write this newsletter, Enric, the oldest, is coming home from college for his Christmas break. As even more snow falls outside, I whisper prayers for a safe trip home. He won't have much of a 'break', when he does get home, he will be working at CVS as a pharmacy technician, where they hold his position for him every summer and on holiday breaks. They love him there!

May you and your family have a blessed Christmas and a Happy Healthy New Year.

---
Cal Ripkin, Jr -Hometown Hero

Once moved into Abingdon, I didn't realize the proximity of Aberdeen (nor Aberdeen proving grounds, *sigh*, but that's another story).

Aberdeen is home of one of our local heros in sports, Cal Ripken, Jr. He broke Lou Gehrig's major league Iron Man record of 2,130 consecutive games played on Sept. 6, 1995; record streak began on May 30, 1982 and ended Sept. 19, 1998 after 2,632 games; 2-time AL MVP (1983,91) for Baltimore; AL Rookie of Year (1982); AL starter in All-Star Game from 1984-2001; 2-time All-Star Game MVP (1991,2001); holds record for career home runs by a shortstop. (Click on the image for Cal Ripken Jr goodies)

---
Xerraire Recommends Corner

Roadside America - An Outing for the Kid In all of Us

With Christmas soon here, there is talk of miniature Christmas villages with train sets under the tree. That makes me think of a trip we took as a family years ago, on a camping trip to Herhey Park. Wel,l some miles east of there, is this incredible place called Roadside America

At the turn of the century, near Reading, Pennsylvania, Laurence Gieringer, age 5, often looked out of his bedroom window at night, gazing toward nearby Neversink Mountain. Crowning the mountain was the Highland Hotel with lights that twinkled and beckoned. To little Laurence, the glittering white building looked like something from a fairy tale, small enough to pick up and carry home. One day, the boy decided to do just that. Leaving the safety of his backyard, he set off through the woods to find the mountain top and the "toy" building. The inevitable happened. Laurence became bewildered, then completely lost. After a frightening night alone in the woods, he was found by anxious searchers the next morning. Despite this experience, the boy was to retain his interest in "toy" houses for the rest of his life.

Going to work at age 16, Laurence, after a start in the printing trade, became a carpenter and painter, work which he felt gave more scope to his particular talents. Always he continued to work on his hobby of making model buildings. Skillfully, he whittled at blocks of wood, fashioning them to his dream of a miniature village … a church … bridges … a horse-drawn carriage … stables … farmhouses. He knew nothing of drawing to scale, yet arbitrarily established a size of 3/8" to the foot, which he adhered to in all his modeling.

Located in Shartlesville, Pennsylvania, the exhibit fascinates not only because of its authentic, beautifully crafted miniatures, but because of the excitement of continual movement. Swift trains glide through tunnels and over bridges … a tiny fountain bubbles in the miniature Zoo … a mountain trolley hustles through the woodland … an old-time grist mill slowly grinds grain for flour. This is only a small part of the action at ROADSIDE AMERICA.

I hope to go again real soon!


© 1999 - 2003 xerraire.com||mxskinz.com
xerraire@xerraire.com






Finds on the Net!
(some cute Christmas greeting pages)
Merry Christmas- Click on the bell to ring in the holidays, make it snow, click to put ornaments on the tree and turn on the lights, Watch santa fly by, dropping presents (Thanks, Linda & George)
Click a Deer for Holiday Cheer - You've seen these kind around. Each deer on a rooftop, led by Santa is waiting for your click on them to start their part in the fun. Very cute. (Sent to me by JimOnline.com )