Past Newsletters

2004

2003
.

Last updated November 24, 2004,9:00 PM EDT


November Edition
---
Welcome to My Newsletter!


Whats new! Always something new.

I am writing this the day before Thanksgiving. I am thankful I will be spending this very special holiday with my mom, my sister and her family. As I work on this newsletter mom has the oven lit and the house is full of the aromas of pumpkin pies. Mmmm pumpkin pies, my favorite...unless its apple, no it's pumpkin. I suppose it's whichever of those two I am eating at that time. :)

"Look to your health; and if you have it, praise God and value it next to a good conscience; for health is the second blessing that money cannot

buy; therefore value it, and be thankful for it."
Izaak Walton (1593 - 1683)



---
"Being Thankful"

It's easy to be thankful, we have so much. I often wonder if life wasn't so easy, would I remember to be thankful? Actually, being thankful when times are easy is many times when we often forget. Perhaps Benjamin Franklin said it best, " Who is rich? He that rejoices in his portion". I pray I can learn to make thankfulness not just a once a year holiday occasion, to know that thankfulness is not what happens to me, but that which is in me..

There are a set of music CD's that I have (and even some videos) that I enjoy a great deal. One can never be too sure what happens to the money that goes to charity, but recently I studied the Pavarotti and Friends CDs that I love to listen to, I had to ponder what kind of 'thankfulness' I would feel if I were the victoms of each of these causes. If you have never heard these gems of music, I encourage you to, they are just great music! Pop stars with Opera Singers, A great idea!

| | |
| --- | --- |
| | Among those appearing with Pavarotti on this CD are Sting, Zuchero, Mike Oldfriend, Brian May of Queen, and Bob Geldof, already himself an icon in musical charity events when he led the music world with Live Aid. |
| Recorded live from the Parco Novi Sad, in Modena Italy, on 20 June 1996, this is another of Pavarotti's wonderful concerts to benefit children who are caught up in the horrors of war. Pavarotti singswith the likes of Eric Clapton, Liza Minelli, Sheryl Crow, Jon Secada, Joan Osborne and Elton John | |
| | Wonderful pairing of Pavarotti and Bryan Adams on "O Sole Mio". Yet another charity live recording that I liked a lot. Giorgia's "Santa Lucia Luntana," as well as "Who Wants to Live Forever" are other highlights of this concert. |
| Luciano Pavarotti & Friends Together for The Children Of Bosnia is one of my favorites of them. I didn't know Michael Bolton could sing like that! Live from the Parco Novi Sad, Modena, in the presence of Diana, Princess of Wales, this time in aid of a music therapy centre being built in Mostar by War Child. As is usual with these concerts, Pavarotti brings together artists from all musical genres, and even does duets with some of them including Meat Loaf, Michael Bolton and Dolores O'Riordan. One rousing song on this CD is "Penso Positivo: by Jovanotti! | |
| | For Cambodia & Tibet features performances by an eclectic group of talents. From folk rocker Tracy Chapman to Swedish bubblegum popsters Aqua. Also they are joined by the Eurythmics and George Michael. |
| For the children of Liberia, this has some Spice Girls, steamy songs by Vanessa Williams, Jon Bon Jovi, the Corrs, and one of my favorite singers, Stevie Wonder. | |
Check out Pavarotti and Friends at Amazon.com
---
Xerraire Recommends Corner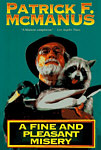 A Fine and Pleasant Misery
by Patrick F. McManus


It seems like all I read are funny books of late! Trust me, after 20 years of reading books on rearing children, homeschooling, Bible Prophecy, Conspiracy Theories, Evolution versus Creation, and Solar Flares, it's been way past time for some lighthearted fun! Well here is yet another book that has my side splitting with laughter!


In 1992, Pat McManus, already recognized as one of America's funniest humor writers (from his columns in Field and Stream and Outdoor Life, and his 12 books), wondered if his stories about growing up in rural Idaho might work on the stage. Pat used his own fear of the dark as a central theme to weave some of his favorite pieces together in what becomes a truly funny evening. The result was described by one reviewer as "a wonderful cross somewhere between Mark Twain and Bill Cosby."
There was a slow start about this book, but he manages to hook you in, and tell one story after another of his growing up adventures, camping, his dog, his bike ("built by a fiend with his own 3 hands, traded to my mother for the price of a good milk cow." The seat was like a hatchet, put a doily on it for padding.)

Get A Fine and Pleasant Misery at Amazon!


© 1999 - 2004 xerraire.com||mxskinz.com
xerraire@xerraire.com






Finds on the Net

Pavarotti and Friends official Website HERE
Recenty I have learned that the net can be a great place to compare and shop for car insurance! Shop and Compare multiple Car Insurance quotes for free.
Follow a four-month hunt for dinosaur fossils including: 600-toothed giant plant-eaters, flying reptiles, massive crocodiles, and more » HERE