Past Newsletters

2004

2003
.

Last updated July 24, 2004,7:00 PM EDT


July Edition
---
Welcome to My Newsletter!
---


Whats new! Well I barely sneaked this in for July!

I write as a proud mama this month! I am always a proud and beaming mother, but this month both of my sons seemed to have kept me extra busy in the proud department!

Miquel played a weekend of excellent tennis tournament at the Churchville Recreational Center in Churchville, but it was later moved indoors, due to the persistant rain we keep having here in Maryland.

Then I leared Enric was asked to preach for Wednesday night service, so, we made a day of it at mom's and went to get a close seat to the pulpit at Anchor Baptist Church! Nice to see old friends.


---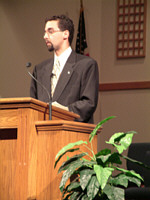 Enric, Teaching from the book of Romans

I had the honor and the pleasure to hear my son preach recently.
Enric has been going to Northland Baptist Bible College now for some years and soon will return end of August. You can imagine my pride hearing my son speak. I saw this young man, so grown, it seemed like only yesterday he was barely able to read, when I saw him sitting on a small stool reading something. I asked, "What are you reading?" He replied, "The Bible" as if that is perfectly normal reading material for 5 year olds. Well I wasn't going to shun his passion to read God's word, so I just figured he could read "Go Dogs Go" anytime, and let it go at that.

Enric really did his homework for this sermon, it was deep, very well researched and I am sure reached many of the congregation at to live more for the Lord.

This is part of fullfilling his work at Anchor Baptist Church in Millersville, a 'Preacher Boy' as they call them. This is not easy work, it takes time, dedication and the calling.


---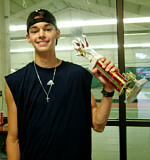 Miquel's a winner!

Although Miquel always makes me proud to be his mom, it was sure rewarding to see him beaming and holding up his trophy after winning a tournament for fourteen year olds.

This is his second tournament of the summer, with more to come.

He played hard and with all his abilities. It was especially gratifying to see him play with everything he has learned. He sure gave the people watching him and his friend and apponent, Adam, a very good match to see.

See more of Miquel's match HERE


---
Xerraire Recommends Corner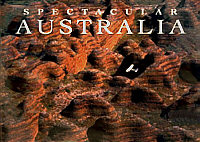 Spectacular Australia

There are times when the net makes me feel like I live in more than one continent....Australia is definately included as one of them!
Last newsletter, it was Spectacular America,
now I have added this to my collection of "spectacular" books!

Australia is a vigorous young nation astride an ancient continent. This vast, parched land - the flattest and driest continent - is revealed here in 200 splendid color photographs, including panoramic gatefolds by some of the most distinguished photographers working in the country today. State by state, the images here capture the Great Barrier Reef, the biggest coral reef on the planet; the massive glowing monoliths of the Red Centre in the Northern Territory; the snowcapped peaks and frozen lakes in the rain-soaked wilderness of Tasmania; the lush green plains of the Great Divide; and the scorched stone, sandy deserts, and crystalline white salt lakes of the interior.


© 1999 - 2004 xerraire.com||mxskinz.com
xerraire@xerraire.com






Finds on the Net!
Anchor Baptist Online - A fundamentalist Baptist church in Millersville, Maryland.


The Bible - They have the entire Bible online, a few versions, a search utility, and a daily devotional!


Harford County Bird Club - The Chesapeake Bay and offers a diverse habitat for both breeding and migrating bird species