Barcelona Airport
Sabadell - A Casa-
Sabadell - Casa de Pepe i Marta
Lascuarre
Lleida
Montserrat
Sabadell - Pepe's Birthday
Barcelona - Plaça St Jaume
Barcelona - Plaça Reial
Barcelona - Ramblas-
Barcelona - Parc Guell
Sabadell - La Llar
Barcelona - Camp Nou
Sabadell - Noemí
Cerdanyola - Casa Antonio
Cerdanyola - Casa Andreu
Sabadell - Victor Colomer
Badalona - Casa Kiko
Petra Arrives
Barcelona - Montjuich
Barcelona - Surprise Dinner
Sabadell - Boys Birthday
Barcelona - Port
Barcelona - Casa Andreus
Sabadell - Farewells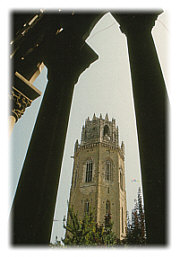 Abandoned in the 18th century it had been converted to a military barracks! Now they have moved them to new installations near the city.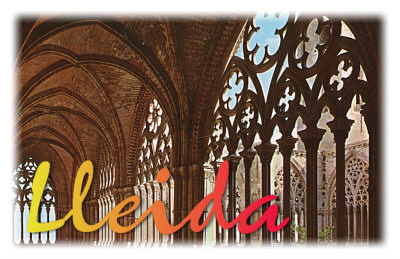 Lleida is one of my most favorite places to visit! Its always sunny, festive, the shopping is great ( I got a leather bag, I chose the first one I saw, but not after I had the shopkeeper show me each one! He was not very amused, hehe. But I could tell that many women must have put him through that before!

Resting on the Segre River (which has flooded a few times), Lleida is an important historical city, here Julius Cesar procurred one of his great decisive victories. In the middle ages it was strategically located to suffer many invasions throughout the history of Catalunya. Its Seu Vella Cathedral (13-14th Century) dominates its skyline and every time we have gone is always in a state of restoration, and has been since 1949. This time we went, all seemed rather finished. The above picture is taken from inside the Cathedral.
| | | |
| --- | --- | --- |
| Lleida's streets are amazing. Colorful, music playing, and adorable shops! | The cafe's and restaurants are also a wonder. Here we ordered fantastic gourmet coffees, the children tried them too! | When I was a young girl studying Spanish, there was in my textbook a street that looked much like this one, little did I know then, as I admired the picture, I would visit there! |
| One of my favorite pictures of Laura, looking down to the river. | Another view of Lleida | It is quite a trek up to reach the cathedral, at this point we are only still part of the way up. |
| The children pose as I ... | ...continuously look for new and different.... | angles to photograph the large and impressive "Seu de Lleida". This one and |
| this one was taken with me flat on my back looking upwards. | Everything is so ornate... | The view to Lleida below. |