Barcelona Airport
Sabadell - A Casa
Sabadell - Casa de Pepe i Marta
Lascuarre
Lleida
Montserrat
Sabadell - Pepe's Birthday
Barcelona - Plaça St Jaume
Barcelona - Plaça Reial
Barcelona - Ramblas
Barcelona - Parc Guell
Sabadell - La Llar
Barcelona - Camp Nou
Sabadell - Noemí
Cerdanyola - Casa Antonio
Cerdanyola - Casa Andreu
Sabadell - Victor Colomer
Badalona - Casa Kiko
Petra Arrives
Barcelona - Montjuich
Barcelona - Surprise Dinner
Sabadell - Boys Birthday
Barcelona - Casa Andreus
Sabadell - Farewells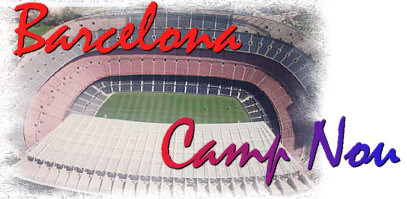 The Nou Camp is the biggest football stadium in Europe with a capacity of 98,000. Originally the Nou Camp held 90,000 spectators but capacity was increased to 120,000 for the 1982 World Cup in Spain.

Nou Camp is a source of immense pride to Barcelona's supporters not only because of the sheer size of the stadium, but also due to the architectural design. The modern facilities available here make it by far the best football venue in Europe. The stadium is so well regarded that UEFA gave it a five-star rating – a category reserved for the very few.


Now already established as good friends,
Kiko & Montse and
Marta & Pepe, helped
us make arrangements to see a Barcelona soccer game!