Barcelona Airport
Sabadell - A Casa
Sabadell - Casa de Pepe i Marta
Lascuarre
Lleida
Montserrat
Sabadell - Pepe's Birthday
Barcelona - Plaça St Jaume
Barcelona - Plaça Reial
Barcelona - Ramblas
Barcelona - Parc Guell
Sabadell - La Llar
Barcelona - Camp Nou
Sabadell - Noemí
Cerdanyola - Casa Antonio
Cerdanyola - Casa Andreu
Sabadell - Victor Colomer
Badalona - Casa Kiko
Petra Arrives
Barcelona - Montjuich
Barcelona - Surprise Dinner
Sabadell - Boys Birthday
Barcelona - Casa Andreus
Sabadell - Farewells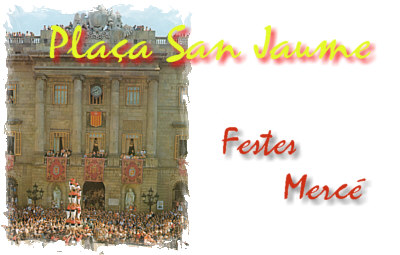 We apparently were in Spain, or more importantly in Barcelona, during the festival of "La Mercé" The patron saint of Barcelona.

Kiko, with printed out schedules and subway times in tow, and an agenda for the entire day, early morning until late at night insisted and was determined that we were to experience all the flavor of the festivties.

First, we went to see sardanas, the typical dance of Catalunya. Next was Plaça San Jaume, where the town hall of Catalunya is located and where we got to see Castellers (people forming man made towers). They have competitions with these castellers and each one had something different than the other to offer.

We got to see many
Castellers this day!


Xerraire with Pepote


Kiko and Marta


Montse and Pepe


Laura with her "Mr Kiko"
They were chummy before they
ever met in person!