Barcelona Airport
Sabadell - A Casa
Sabadell - Casa de Pepe i Marta
Lascuarre
Lleida
Montserrat
Sabadell - Pepe's Birthday
Barcelona - Plaça St Jaume
Barcelona - Plaça Reial
Barcelona - Ramblas
Barcelona - Parc Guell
Sabadell - La Llar
Barcelona - Camp Nou
Sabadell - Noemí
Cerdanyola - Casa Antonio
Cerdanyola - Casa Andreu
Sabadell - Victor Colomer
Badalona - Casa Kiko
Petra Arrives
Barcelona - Montjuich
Barcelona - Surprise Dinner
Sabadell - Boys Birthday
Barcelona - Casa Andreus
Sabadell - Farewells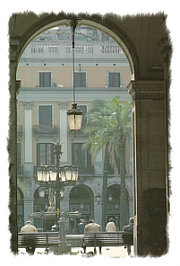 A partial view of Plaza Real
through its many arches.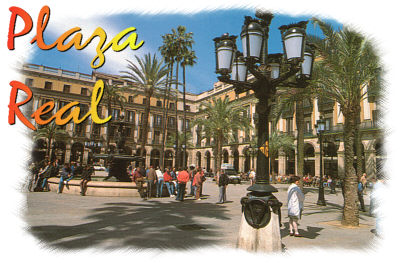 Many of Barcelona's
plazas are quite small, but
some, like this one, known
in Catalán as the Plaça
Reial is quite large. Once
an ancient convent to
the Capuchin Monks, it was
destroyed in 1835. Today,
the cloistered look is
still very well preserved,
adorned with palms and
carriage lamps.

We were taken by our
friends to a resturant
where Marta was sure the
tomato in the macarrons
I ordered were bad. Her face
was all I needed, I did not eat
them!

Here we are, minus myself the picture taker, assembled at the restaurant.


Kiko and Montse


Miquel and Laura fooling around, as usual.


Enric. quiet and observant, as his usual.


Laura, enjoying "gelat"
(ice cream).


After our meal, the children ran in the plaza amongst the pigeons.


Laura looks as if she is ready to take flight with the pigeons



Kiko, who loves children, looks on as they run and play, as he plans our next move for the day.


I do believe the children could have stayed there the rest of the day....