Barcelona Airport
Sabadell - A Casa
Sabadell - Casa de Pepe i Marta
Lascuarre
Lleida
Montserrat
Sabadell - Pepe's Birthday
Barcelona - Plaça St Jaume
Barcelona - Plaça Reial
Barcelona - Ramblas
Barcelona - Parc Guell
Sabadell - La Llar
Barcelona - Camp Nou
Sabadell - Noemí
Cerdanyola - Casa Antonio
Cerdanyola - Casa Andreu
Sabadell - Victor Colomer
Badalona - Casa Kiko
Petra Arrives
Barcelona - Montjuich
Barcelona - Surprise Dinner
Sabadell - Boys Birthday
Barcelona - Casa Andreus
Sabadell - Farewells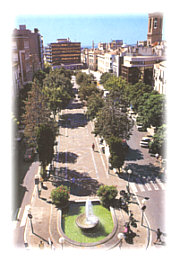 Sabadell Center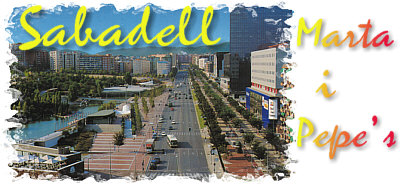 Our first days in Spain, we were invited to Marta and Pepe's, wonderful people I met in a Yahoo chat room talking about (of all things) SPORTS! Namely, Barça.
I don't think Marta could believe she was talking to an American Xerraire, hehe.
We became instant friends...

Marta had a wonderful table set for us! Two kinds of tortilla de patatas...pernil, pa amb tomaquet, olivas...all that we crave when we are so far away from Spain!


Marta and Pepe surprised us with an unexpected visit from yet another online friend of mine! Antonio, and his lovely wife, Mariluz


Marta, trying to look innocent at her surprise!
You can see
I am a very tickled Xerraire to meet
Antonio finally, face to face.