Through some turn of events, a reporter named Victor Colomer contacted me over the internet for an interview.
He sent me a charming mail after seeing my website. Was kind of interesting that I already knew him from reading his articles on the internet and liked his work. When he found out we were coming to Sabadell, he immediately asked to set up for an interview. After a few phone tag days of trying to catch up with one another, we finally set up a meeting in the home of my in-laws. He found "Xerraire" so fascinating, one article became two.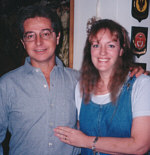 Here is the article he wrote about Xerraire's life on the internet.
Here is the second he did that day, about Homeschooling.